Surgebreaker Plus Whole House

Surge Protector

SDSB1175C
by Square D By Schneider Electric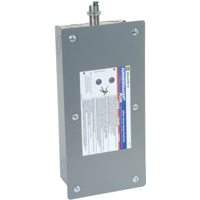 Tap here to call on a mobile phone or dial 678-682-0387
Surge protector
Surge protector

whole house phone and coax "surgebreaker plus"
The 2 Surge Protector Products above are a Square D on the left. This unit will cost around $285. The Surge Protector on the right is a Leviton, it will run around $75 dollars @ Home Depot or Lowe's.
Voltage
Unwanted or Transient Voltage surge suppressor (tvss). Hybrid technology thermal-fuse metal oxide varistor and gas discharge tube (gdt) design. Ride-through sustained overvoltage up to 240 volt ac, suitable for connection to power systems whose available short-circui t capacity does not exceed 25,000 amp symmetrical short-circuit current when protected by the recommended branch circuit protective devices. Flush (type 1 housing only) or surface mounting installation. Provides ac line protection for the whole house and protects four telephone lines and up to two coaxial lines with gas discharge tube (gdt) technology. All modes protected (l – l, l – n, l – g, n – g). That was the technical description of the Surge Protector. Either unit will protect your Electrical Panel from unwanted Voltage on your Single-Phase residential wiring.
Single-Phase
They are  designed for use on single-phase, three-wire, 120/240 volt ac, 50/60 hz service. The leds on the face of the ac module indicate the operational status of the ac protection. If the leds for each line are on, the device is fully operational. If either of the leds go off, the ac module should be replaced. Design allows for field replacement of components. Ul listed, c-ul listed for use in canada.